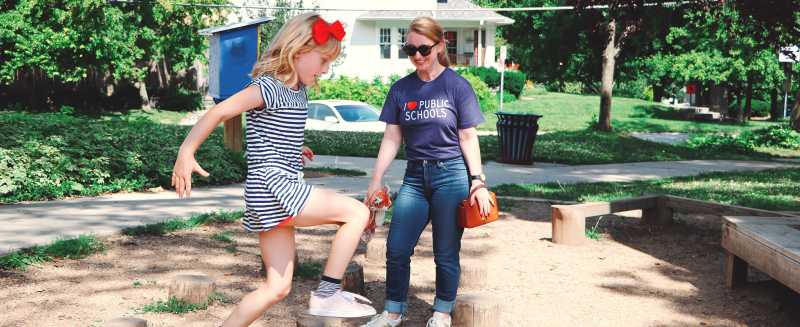 Meet Megan Hunt
Megan Hunt is a small business owner, community activist, and mother running for the Nebraska Legislature in District 8. A sixth-generation Nebraskan, Megan has lived and worked in the Dundee and Benson neighborhoods for the past 13 years. A seasoned entrepreneur, Megan is the owner of Hello Holiday, a community-facing boutique and e-commerce company supporting independent fashion designers and best known for its "Girls Support Girls" messaging and fundraising collaborations with local nonprofit organizations. She has a seven-year-old daughter who is a second grader at Dundee Elementary.
Megan is also the founder and Vice President of Safe Space Nebraska, a 501(c)3 working to end harassment and assault in nightlife establishments. She is a trustee of the Business Ethics Alliance and has served on the boards of Friends of Planned Parenthood of the Heartland, Friends of the Nebraska AIDS Project, and Omaha Area Youth Orchestras.
Born and raised in Blair, Nebraska, her parents instilled in her the value of hard work, determination, and the importance of public service. While attending Blair High School, Megan worked as a cook for a local catering company and as a member of a hot air balloon crew, where she developed relationships within her community and gained an appreciation for the sense of accomplishment that comes from working on a team. She began attending Dana College her senior year of high school as a Presidential Scholar. During this time, she worked as a newspaper reporter and as a retail clerk at a locally-owned record store. After graduating with her Bachelor's in Intercultural Communication and German in 2008, Megan continued her education in the University of Nebraska-Omaha's Political Communication Master's program and coached the Blair High School Forensics team for four years.

Megan Hunt was a passionate advocate for the inclusion of Comprehensive Sex Education in the Omaha Public Schools curriculum, offering arguments before the school board as a local parent and reproductive rights advocate. Her work to organize testimony and educate the public inspired parents and constituents all over the city to unite behind the push for medically-accurate, evidence-based, comprehensive sexual education for our children. Megan Hunt has also offered testimony before the Nebraska Legislature on bills regarding equal pay, Medicaid expansion, funding for family planning services, and more.
As a business owner, community leader, and parent, Megan has worked with commitment and discipline to help people from all walks of life prosper in our state. Her campaign stems from her belief and track record that the more everyday Nebraskans are empowered and supported to improve their quality of life, the easier it is for all of us to live the good life in the Cornhusker State.
Why I'm Running
I am running for the Legislature because I don't see enough leaders who are willing to advocate for forward-looking developments in Nebraska policy. And I think in the big picture of that, we're in danger of losing civic engagement, trust, and votes from a population of people who will become exhausted doing activism that doesn't lead to tangible results. I've seen on the ground how hard people work for the causes and issues that will improve their lives, and I think it's time for us to have some wins.
After living in this district for thirteen years, I've observed that this is an engaged community of folks who are thoughtful, who are civically engaged, who show up for PTO meetings and neighborhood association gatherings and who patronize our local businesses. I have coffee at Blue Line every morning, I walk my daughter to school at Dundee Elementary, and I own a storefront at 50th and Underwood where I employ people and work every day, seeing neighbors from our community and beyond. I have been engaged with board and committee service for years, and I'm the founder and director of a metro-area nonprofit. I believe that I already represent my peers as a business owner, an engaged voter, an activist, a millennial, and a parent, but that there aren't enough leaders like me in positions to make actual public policy.
I believe in a style of leadership and cooperation that doesn't look at things in partisan terms, that doesn't operate in either/or, and left or right. We can give struggling Nebraskans access to resources and support while still being responsible with taxpayer dollars and maintaining a balanced budget. We can be a state that is inclusive of people from all backgrounds and still value the pioneer ethos that built our foundation. We can make our cities safer from crime while still taking responsibility for addressing the negative impacts of our carceral system. We can attract innovative new businesses that grow both our urban centers and our agricultural regions. People are tired of the status quo, of business as usual, and I understand that because I've spent my whole life questioning the way things are done, including the misguided decisions of policymakers who are more concerned about their next election than serving their constituents. I'm running because there is a better way.

Our economy isn't money. It's people. My wish is to see more people prosper. My wish is to encourage the development of a culture a higher quality of education, healthcare, and social policy has made business ownership and upward mobility accessible to everybody who wants to put down roots here and invest their sweat equity into our communities. My belief is that success and happiness is not a limited resource. The more everyday Nebraskans are empowered and supported to improve their quality of life—from their homes, to their schools, to their bank accounts—the better life is for all of us.